---
Posted by Jeffrey Wittenhagen on
Tristan and Jeff go over some big news at the homefront, cover the Nintendo Switch Direct with lots of brand new games, the Unity debacle, Atari buying AtariAge and more! They also go over the Zelda-inspired Action RPG Skjoldur Story.  This is VGBS!
---
Posted by Jeffrey Wittenhagen on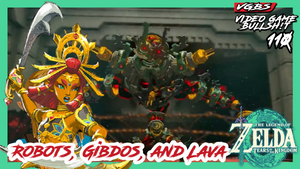 Tristan and Jeff go over their third week playing The Legend of Zelda Tears of the Kingdom. They are making tons of progress, cover the latest regarding duplication glitches, and even found some kind of a mech suit. There will be some spoilers here but not much regarding the story. 
---
Posted by Jeffrey Wittenhagen on
This week we talk about our video game set ups and how we play older games. This includes how we played things within the past 5 years with Framemeisters, Everdrives, and High Definition displays and the evolution of modern technology and how that has changed recently with the Steam Deck, Analogue Pocket, and PolyMega. We also talk about our BS Homework with Kirby Return to Dreamland Deluxe on the Nintendo Switch!